How to Do Hawaii in Nine Days
or
Climbing Your Way Through the Aloha State
Saturday, July 10, 2010 - Day 1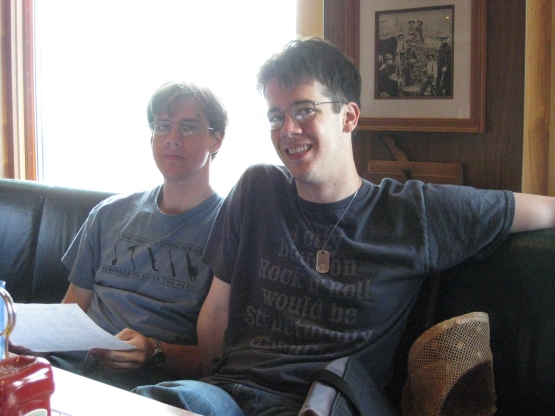 David, Jessica, John, Alex, Davidís sister, Meg, her husband, Reid and their son, Mark, were up early and chauffeured to John Wayne Airport at 7:15a by Davidís sister, Gina, and her husband, Kim. It was an uneventful flight to Honolulu and the cab we hired to take us to the cruise ship turned out to be a stretched limousine. If you think security is tough trying to go through and airport, then you have never tried to board a cruise ship. We had the proper papers for David & Jessica, but at each checkpoint we had to have them look up John and Alex on their own copy of the manifest. Finally we checked the big luggage and boarded the ship. As this was a 27 hour day for us, we headed up to the buffet for lunch.
Alex and John enjoying the buffet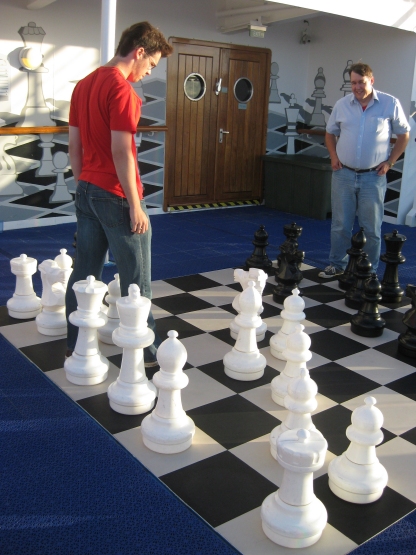 After our meal and checking into our stateroom (actually a cabin that has plenty of room for four adult cats), we started wandering about the ship and in no time at all found a giant chess set up on deck 12. I set up the pieces and Jessica asked me to play a game with her. I was reluctant, but there were others watching and it wouldnít have been a good idea to chicken out. After Jessica played 1 e4, I played 1Öc5 and a young man watching the game asked me if I knew what I was doing. Did I know I was playing the Sicilian? At that point I told Jessica that our game was over and I invited the kid to take the white pieces. He clearly was experienced, but I won a couple of pawns in the opening, then ground him down in the endgame. His mother showed up just as the game ended, and was surprised to hear her boy had lost.
John and David with the chess set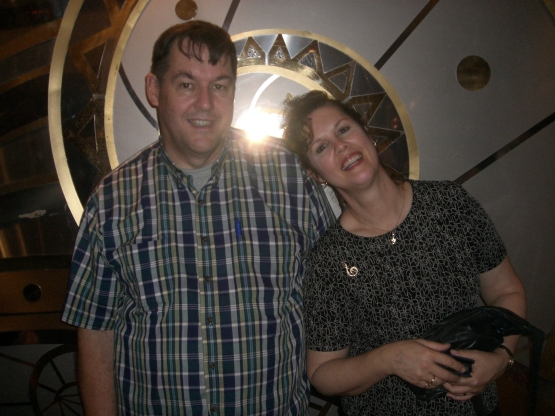 Next it was time for the "Pubcrawl". For $20.00 they take you around to five of the bars on the ship and give you five drinks. Itís a good thing that each of these drinks contained approximately one molecule of alcohol or it would be very easy to get wasted. We had dinner in the Skyline restaurant and then went to bed early, mostly because we were still on California time.
David and Jessica waiting for dinner in the Skyline restaurant.

Day 2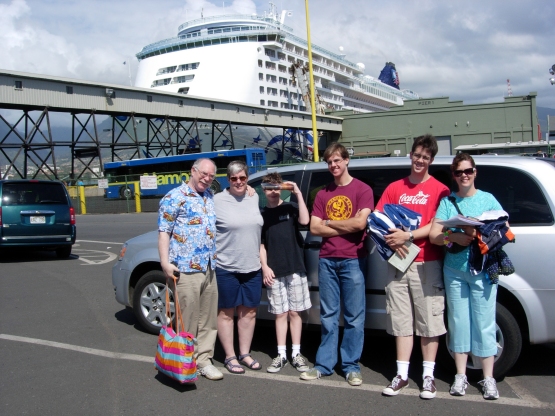 We woke early to find ourselves in Maui and had breakfast once again in the Skyline dining room. This was to be our preferred place to eat when on board. Dave & Meg went to pick up the rental van, then drove back to the ship for the others. We planned to take the famous "Road to Hana", about 50 miles of twisting-turning road that frequently narrows down to one lane in order to cross a bridge. There were several dozen such bridges.
Reid, Meg, Mark, Alex, John and Jessica, all in front of our rental car, prepare for the "Road to Hana". That's the Pride of America in the background.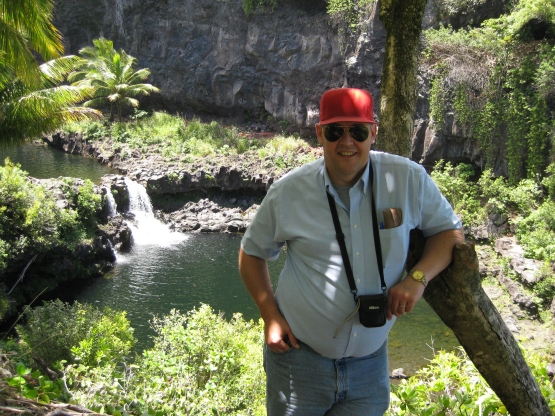 Beyond Hana is Haleakala National Park, which is know for its "Seven Sacred Pools", Bamboo Forest and Waimoku Falls. We took all of these in, despite the fact that the hike to Waimoku Falls is about two miles, uphill both ways, in the mud, constantly obstructed by rocks and roots, and you must ford two small streams (of which David fell into both, and pulled Jessica in with him the second time). A pleasant jaunt.
David with two of the Seven Sacred Pools in the background.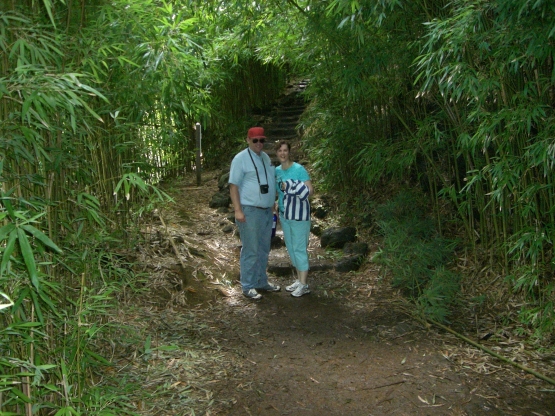 David and Jessica making their way through the bamboo forest.
When the wind blew, the bamboo stalks knocked together and sounded like colossal bamboo wind-chimes all around you.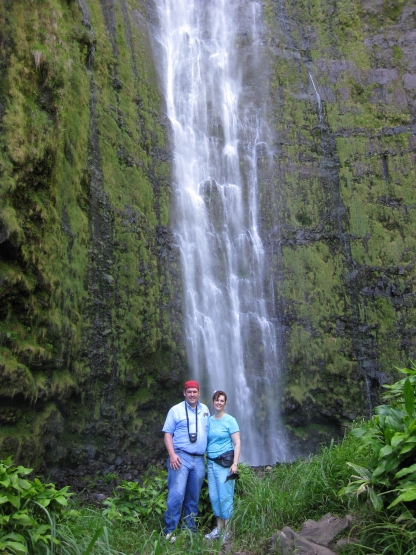 David and Jessica at the base of Waimoku Falls.
You can only see the bottom half of these spectacular falls in this image. If you ever find yourself in Haleakala National Park, make sure you make this trek, it's worth it.
We were back to Kahului (where the ship was docked) around 8:00p when we happened upon a severe auto accident, which must have taken place just a minute before we got there. One car was up on its side, with two wheels folded in. There was a body in the street and people were just starting to gather. We read later that the person in the street had not been wearing a seatbelt (which is not required of back seat passengers in Hawaii).
We had a late dinner, and were starting to get to know our regular server, Ashley (who was from Michigan). Beat, we hit the sack.

Day 3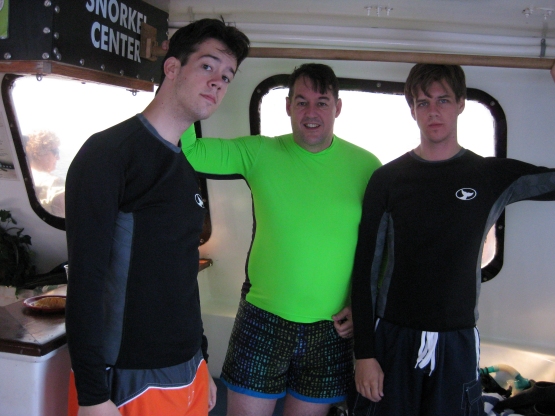 Still in Maui everyone but Reid was breakfasted and out early for the Molokini dive with tropical fish and sea turtles. A bus took us from Kahului to Maalaea where we boarded a catamaran and motored for about 50 minutes to Molokini Island Preserve, an extinct volcano whose rim extends above the waves. The water there is crystal clear and there are abundant tropical fish. We swam around for about two hours, then motored close to Maluaka Bay where we spent about an hour swimming with giant sea turtles. This was a once in a lifetime experience. Back on the boat, they fed us lunch on our way back to the dock. The bus driver gave us some shopping time and then took us back to the cruise ship. This was perhaps my favorite part of our vacation. Dinner, some entertainment, then to bed exhausted.
John, David and Alex prepare to swim with the tropical fish and sea turtles.

Day 4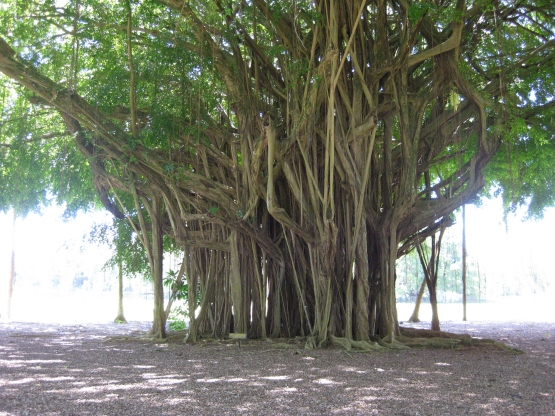 We arrived at Hilo on the island of Hawaii. We had hoped to rent a car, but every firm we called was all sold out. We headed off the ship anyway and I saw a cab stand. Sauntering over, I started up a conversation with a hack who had a van, but it would only hold seven people. If we all went, there would be no room for the driver. After a bit of back and forth, he said he would call his friend, who would take us on a guided tour of the island for $50.00 per person. This was great! We met "Mel" right outside the gate and piled into his extended van. Mel took us to a lot of places in and around Hilo. We went to see a series of Banyan trees that had been planted during the 1930ís by various celebrities...
The Banyan Tree planted by King George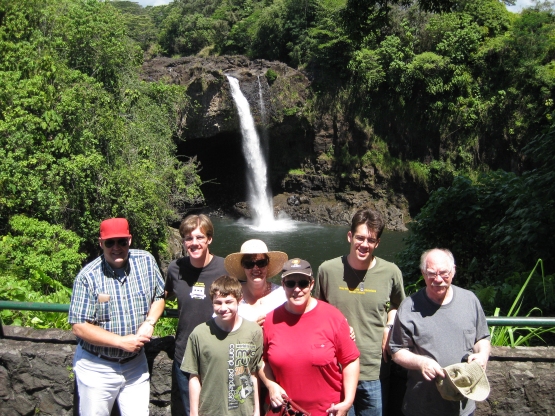 Rainbow Falls (the sacred burial site of King Kamehameha)...
David, Alex, Mark, Jessica, Meg, John and Reid at Rainbow Falls in Hilo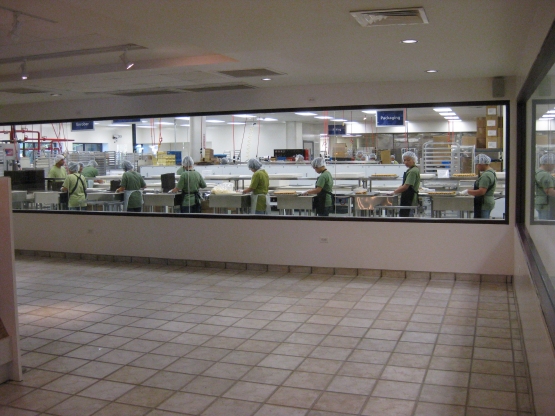 a candy factory...
These women stand behind the windows and hand dip each macadamia nut in chocolate and very carefully place it in a paper wrapper, then box them for sale. There's no way they can make enough candy to account for the sales of this company. I suspect there are huge machines elsewhere that really crank out the product...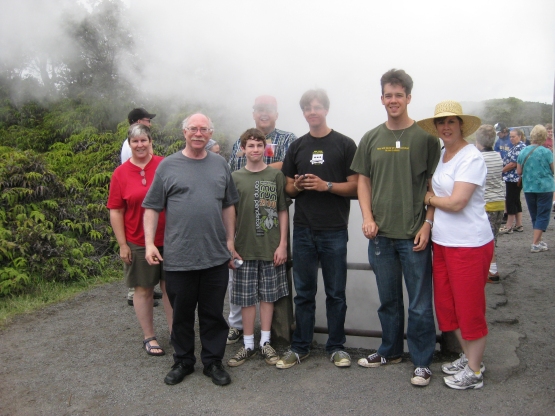 a giant stone that was supposed to have been moved by King Kamehameha, Volcanoes National Park (including the steam vents and a lava tube)...
Meg, Reid, Mark, David (partly covered by steam), Alex, John and Jessica pose in front of a volcanic steam vent. Rainwater soaks into the ground, hit's the hot rocks and emerges as steam everywhere you look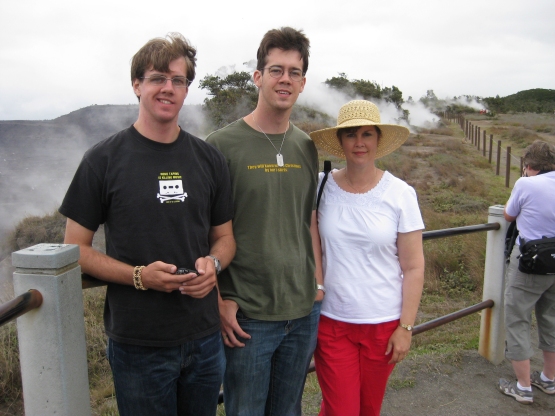 Alex, John and Jessica at the lip of the crater with steam vents in the background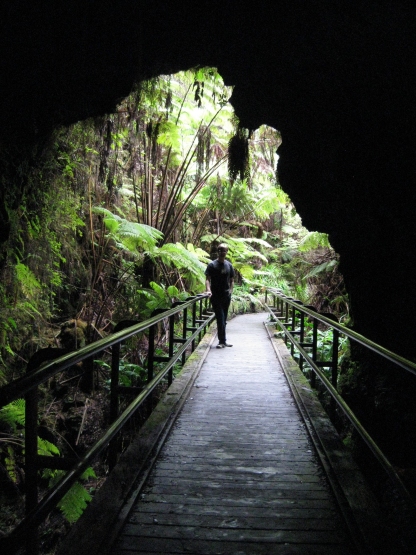 Alex from inside the entrance of the Kilauea lava tube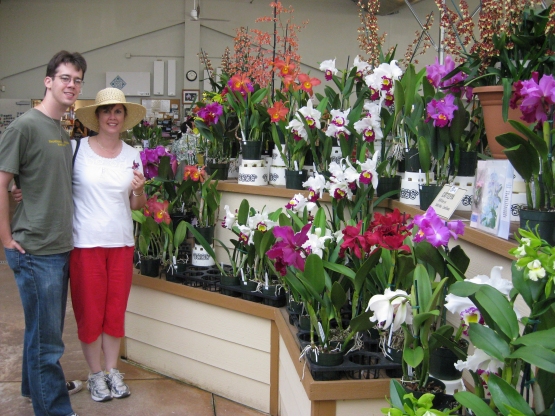 an orchid nursery...
John and Jessica in the orchid nursery. One of the orchids sells for $20,000.00!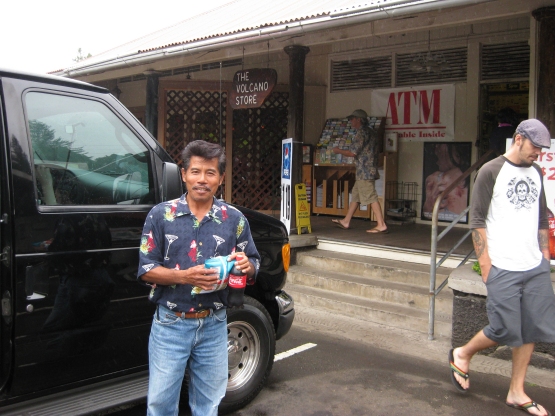 a Macadamia Nut factory (different from the candy factory), and a black sand beach, before returning us to our ship. He was a wonderful guide, and we had a great time. Dinner, entertainment, bed.
Driver Mel and his van. This guy was sensational!


That night leaving Hilo we passed by Volcanoes National Park and Kilaueaís red-hot lava on the shore. While it was visible from the ship, the volcano had stopped "gushing" about 10 days earlier and we were told that we missed the good stuff. Too bad.
Day 5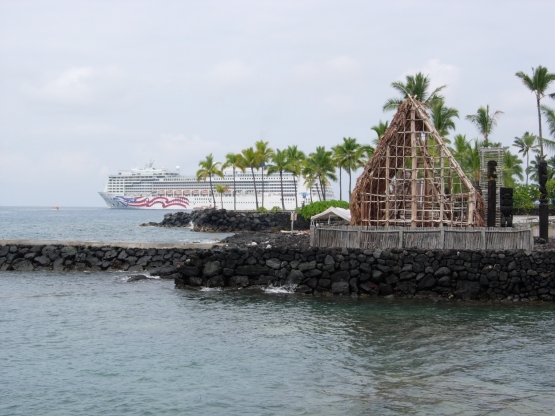 We arrive at Kona (the other large city on the Big Island). Kona is not a deep water port, so we had to tender in. Everyone went their own direction (except John and Mark, who stayed onboard to sleep in).
The Pride of America from Kona. Note the small tender boat on horizon just to the left of our ship.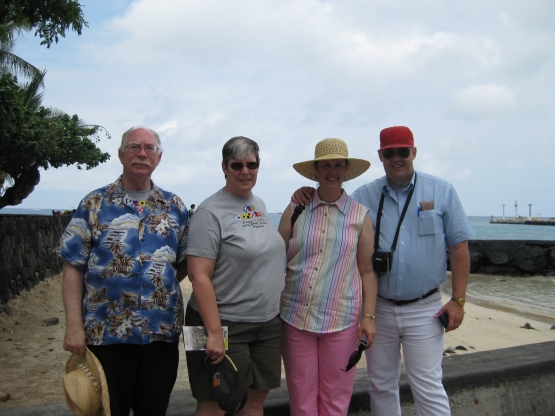 Alex took off in his own direction, Jessica and David wandered around and later met Meg and Reid.
Reid, Meg, Jessica and David meet up in Kona.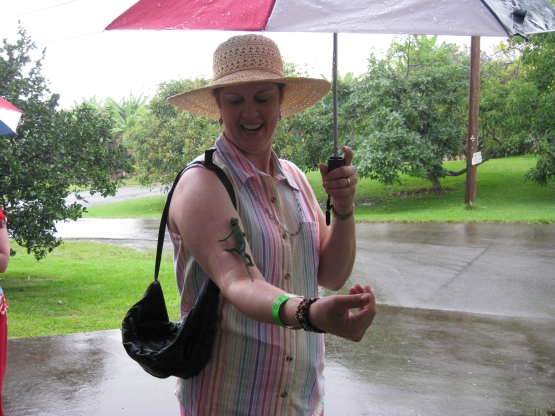 Then Jessica and Meg went on a tour of a coffee plantation (where Jessica had a chameleon walk on her) and a very old church.
Jessica and her new "pet".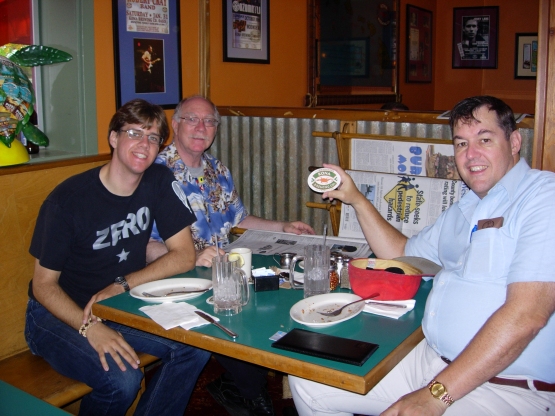 David and Reid hooked up with Alex and we had lunch at the Kona Brewing Company.
Alex, Reid and David finish their pizza at the Kona Brewing Company.

We were back on board early and spent some down time reading and visiting the shipís game room. More dinner, entertainment and to bed.
Day 6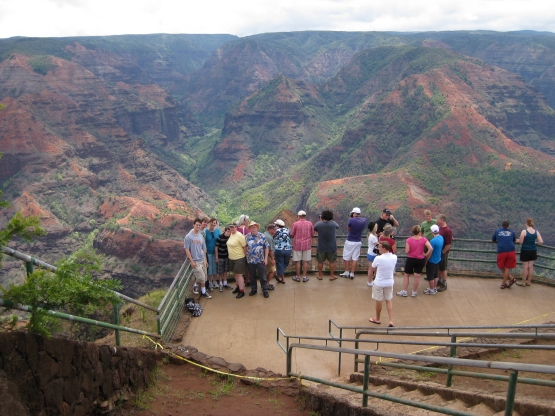 Now we are visiting Kauai, the oldest of the eight large islands. Thereís a luau tonight, so we want to get an early start. We pick up the rental car (after five failures to book a car, Thrifty comes through) and head for Waimea Canyon on the other side of the island. There are a series of stops along the way up, and each stop is more spectacular than the last...
John, Alex, Jessica, Mark, Meg and Reid at one of the Waimea Canyon lookout points.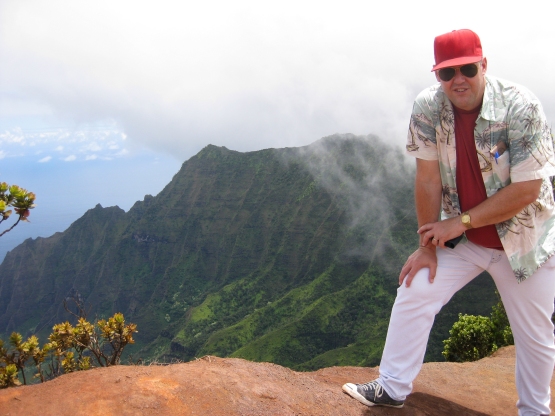 ...until we get to the end of the road, which overlooks the Na Pali Coast State Park. Just amazing!
Daivd over Na Pali Coast State Park. Trust me when I say you wouldn't want to lose your footing here.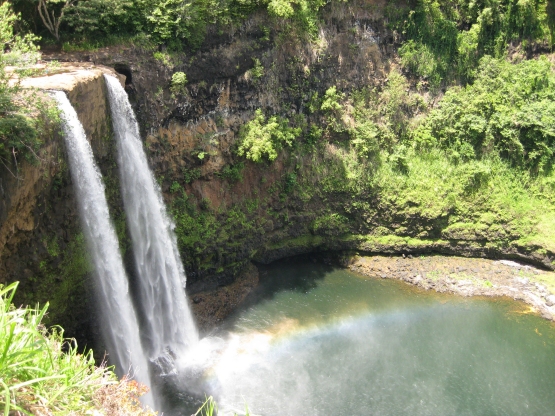 From there we drove back to Lihue and on to Wailua Falls (where scenes from TVís Fantasy Island were shot).
Wailua Falls. There's a person standing at the top of the falls, but they are very difficult to make out. Look at the left stream, it points to the person, who is standing at the top of the lighted rock. Look for a few pixels of blue, that's their swim suit.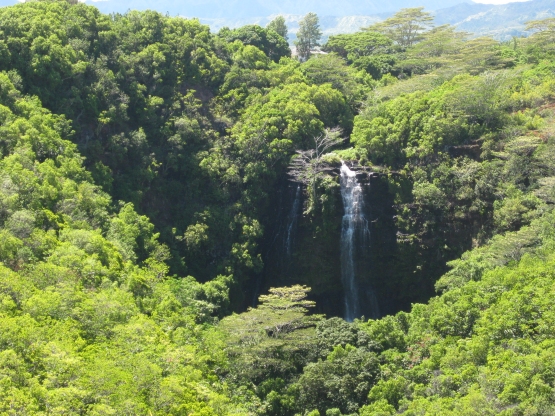 From there, itís not much further to ĎOpaekaía Falls where scenes from Jurassic Park were supposedly filmed.
'Opaeka'a Falls. Look at the tree line almost directly above the falls and you can see the roof of someone's house.

We drove back to Lihue one more time to an address that was described as having excellent "shave ice" (not "shaved", "shave"). We got there exactly 15 minutes after they stopped serving shave ice. Bummer. So we gassed up and returned the van to the airport, then took the shuttle back to the ship.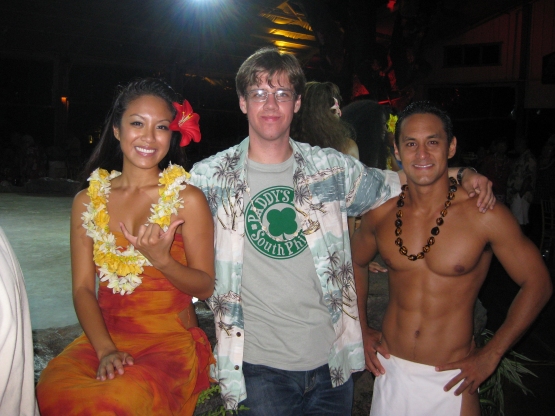 Now it was time for the luau. For a fixed price, they bus you to this estate where they serve a large buffet style meal, with unlimited food and alcohol. Both boys looked upon this as an opportunity, and Alex had enough that he would pose for any picture that Jessica asked him to. There was a big show re-enacting the discovery of Hawaii (by the natives) that included hula dancing, singing, "weddings" and lots and lots of fire. Quite a show.
A somewhat inebriated Alex poses with two members of the show cast.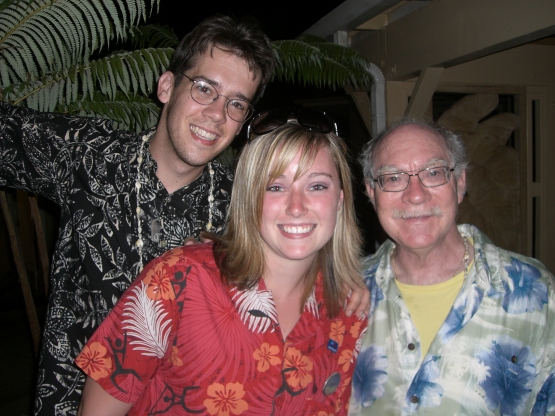 John, Ashley Day (our regular server in the Skyline Dining Room, and also a helper at the luau) and Reid having a good time at the luau.

Day 7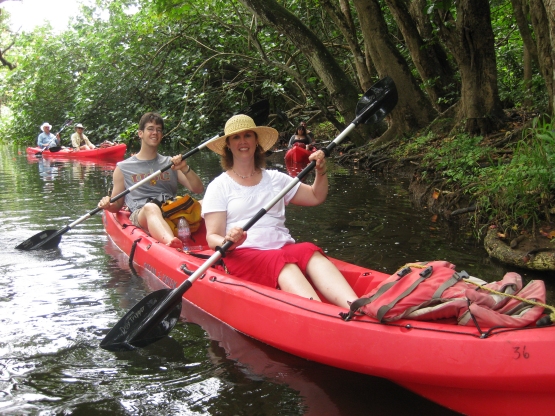 This is a short day in Kauai. Jessica and John elect to go on a kayaking and hiking excursion. They both had a really fun time. Alex and Mark decided to check out the Kauai Zip Line and report they had a spectacular time, but we have to take their words for it, as there are no photographs. Reid decided to try one of the local restaurants for a native Hawaiian style lunch. David and Meg took the shuttle on an excursion to the local Laundromat. The shuttle normally goes to the Wal-Mart, but the driver was kind enough to drop and pick us up where we could clean everyoneís laundry.
John and Jessica go kayaking.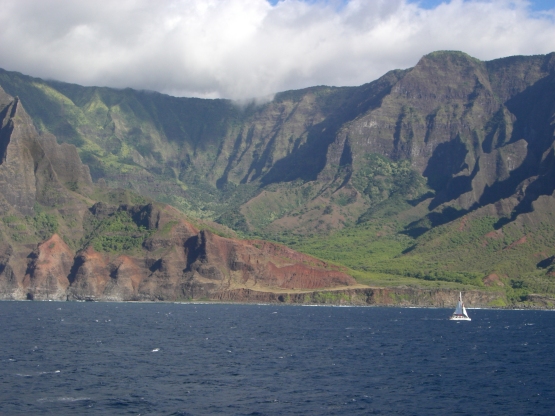 Everyone was back on board by 1:00p when the ship departed for the northern coast to get a seaside view of the Na Pali Coast State Park. Itís almost as spectacular from ground level as it is from the top. We have an easy afternoon hanging out in the game room playing chess and reading.
Na Pali Coast State Park from the ship (we previously saw this from the top).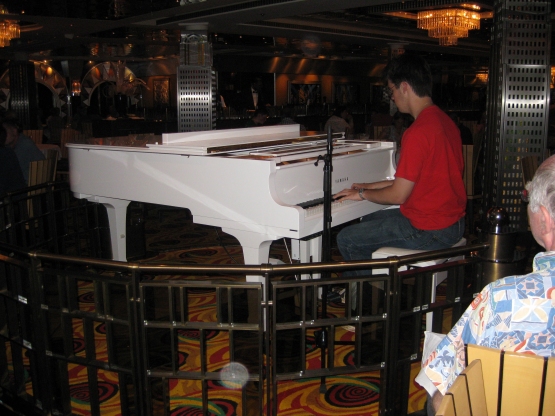 John got a round of applause from the diners after vamping on the piano in the Skyline Dining Room.

Day 8
Everyone up early! We are back in Honolulu on the island of Oahu. We have a rental car waiting for us at the airport, but we need to get everyone and the luggage there. We had taken a cab from the airport to the ship, and were ready to do it again, but we ran into a guy with a shuttle service who offered to take us there for the same price. It wasnít a limo, but it was probably more comfortable.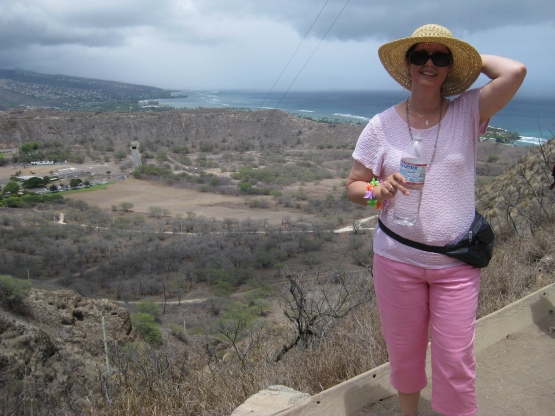 At the airport we picked up our Avis van with Meg driving and David navigating. It didnít take us long to get to Waikiki and find our hotel. One room was ready, so we checked in, dropped off all the luggage and headed out to get a bite to eat for lunch (Jack in the Box), then drove to Diamond Head, the huge volcanic crater on the far side of Waikiki. You drive through a tunnel and inside the crater at the bottom. Thereís a trail that leads to the highest point along the craterís lip, where some coastal artillery emplacements have been built. Itís just climb, climb, climb.
Jessica on the way to the top of Diamond Head. You can see the tunnel entrance to the parking lot, which sits in the bottom of the crater on the left.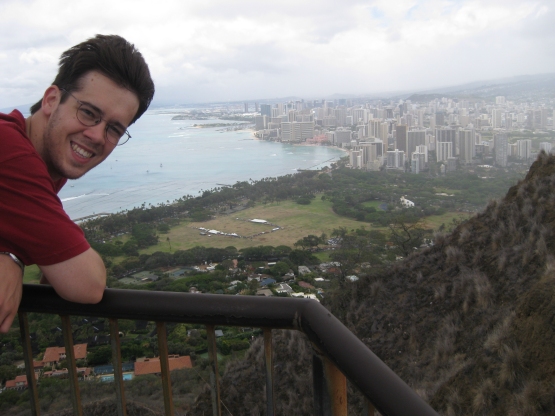 On our way down we found a van in the parking lot selling shave ice and everyone got to try the stuff. Basically itís a snow cone but the ice is shaved instead of crushed (it really tastes different).
John at the top of Diamond Head, with Waikiki and Honolulu in the background.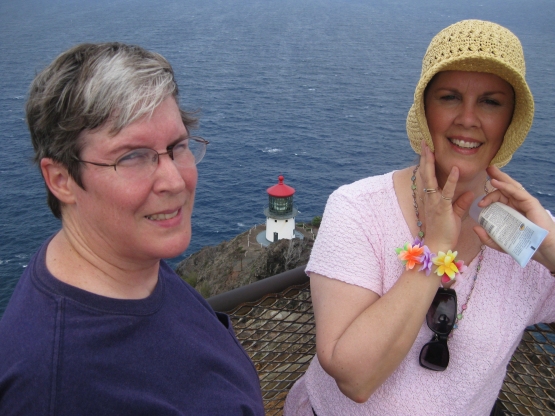 From there we drove to Makapuíu Point, climbed to the top (no easy task), and saw another lighthouse. On the way down we came across one of the local centipedes (we are told that their sting is very nasty. You wonít die, but you will wish you had).
Meg and Jessica at the top of a very windy Makapu'u Point.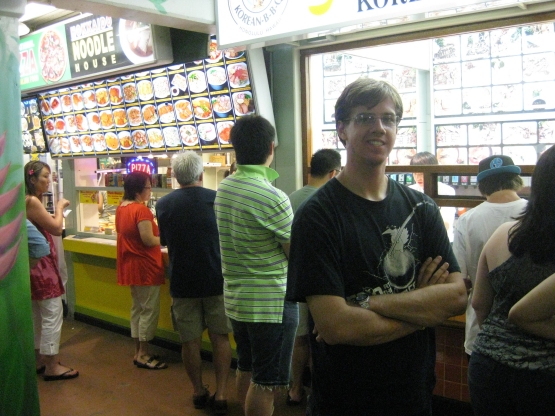 We drove back to the hotel and checked into the second room. Several showered and changed, then we went wandering around Waikiki looking for dinner. We ended up at an outdoor food court that had dozens of different styles of food. Alex and I ended up with Korean, Jessica had seafood, others had Chinese, there was something for everyone.
Alex opts for Korean food.

Day 9
This is our last tour day in Hawaii. We got up early and breakfasted in our room on cold cereal, OJ, coffee, muffins and bananas. Once in the van, we drove to Pearl Harbor, getting lost only once when the freeway divided unexpectedly. At Pearl Harbor we got our tickets for the Arizona Memorial as well as tickets for the "Battle Stations" tour of the battleship Missouri. We watched the 30-minute film that described the events leading up to and the attack on Pearl Harbor back in 1941. It was both informative and stirring.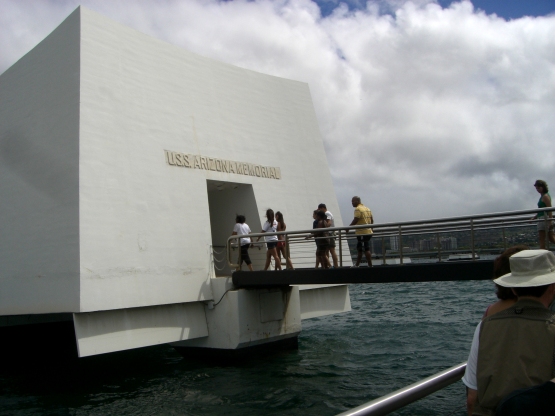 When it was our time, we took the ferry to the Arizona Memorial and toured it for about a half-hour. We headed back to the main exhibits and saw many other memorials (for submariners, the USS Oklahoma, everyone who died in the attack [including civilians]), as well as exhibits of the types and models of torpedoes and missiles used by the US Navy in the last 60 years.
Boarding the USS Arizona Memorial.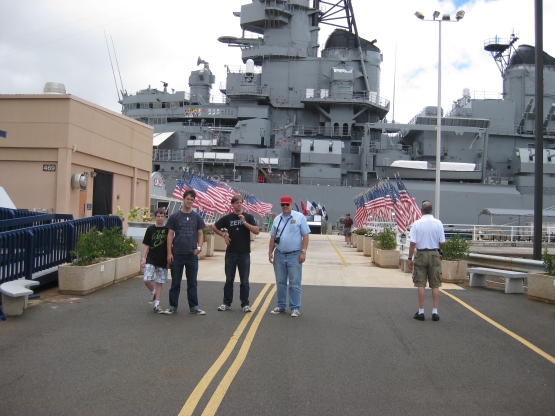 Finally it was time for our "Battle Stations" tour of the Missouri. We took another shuttle bus onto Ford Island (using a most unusual draw bridge, where the bridge segment drops down and the slides back under itself to allow ships through).
Mark, John, Alex and David waiting to tour the USS Missouri.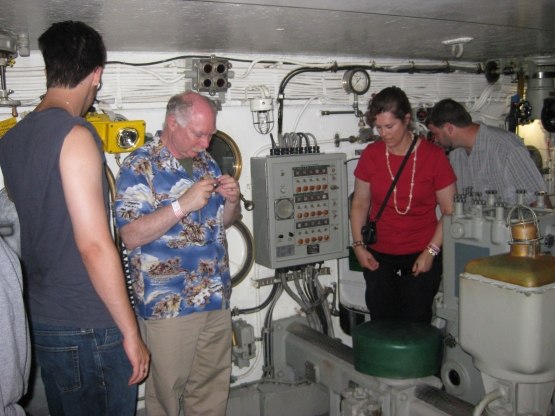 Once at the Missouri we met our tour guide, Bill, who took us up to the bridge and down to the engine room and everywhere in-between. A most interesting tour. One part I got a kick out of was when the ship was taken out of mothballs in the 80ís, the targeting machines of pre-WW II vintage were all replaced by computers, but this only lasted until they fired off the 20" guns and each and every one of the computers crashed. Every time. They finally took the "computors" (sic) out and put the original equipment back in, then had to hunt down all these retired sailors to have them come in and train the n00bs on how to use this old system.
John, Reid and Jessica inside of one of the massive gun turrets.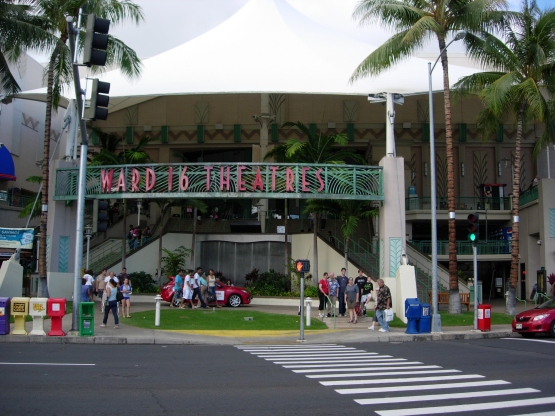 Driving back to Waikiki through Honolulu, we decided to stop at a movie theater and see "Inception" (which had come out two days earlier), then went to Bucaa di Beppo for dinner and the best lasagna I have ever had.
The gang in front the the movie theaters.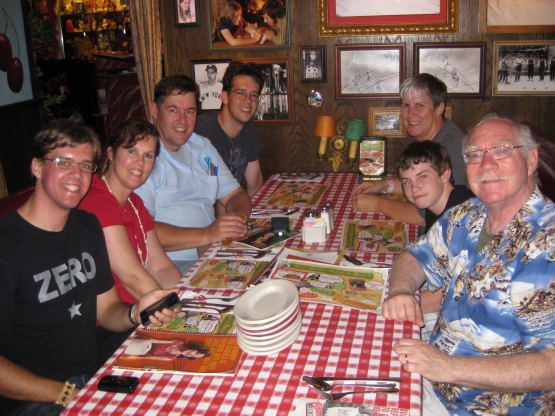 Our "Last Supper" in Hawaii. Alex, Jessica, David, John, Meg, Mark and Reid enjoy Italian at Bucaa di Beppo.

Day 10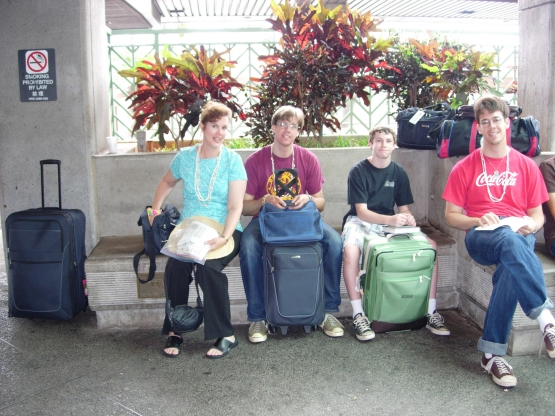 Pack, check out, drive to the airport, return van, hang around airport (our flight didnít leave until afternoon), then fly home to John Wayne. We arrived so early that our gate was occupied and we had to wait on the tarmac until the other plane left.
Gina picks us up at the airport without any problems and we all end up back in Lake Forest safe and sound.
Time to go. Jessica, Alex, Mark and John at the Honolulu airport, ready to fly home.